Manufacturer of refractory products in Iran
Palar Sanat Knowledge base Company
Slide gates and nozzles
Prous Plugs
Alumina Mixes
Precast Shapes
World top production with native Iranian knowledge
 After several years of experience, research and testing, we have produced and offers high quality refractory products in line with new standards.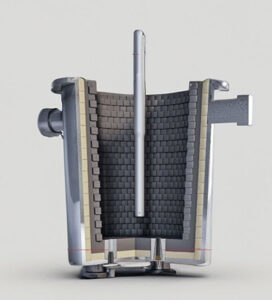 These plates and nozzles are made of alumina-zirconia-carbon, alumina-carbon, magnesia-carbon, magnesia-spinel and according to the customer's request.
Made of high purity and density materials based on high strength corundum. Important features of these products are stable structure, resistant to corrosion, erosion and high susceptibility and long life.
Design and production of various prefabricated shapes in different weights from one kilogram to more than ten tons.
Iran's steel factories use high-quality Iranian Palar Sanat refractory products


Our Customers who are the main steelmakers in Iran